My aesthetic experiment is going to be tweaked before it's even begun, Dear Readers.
Last night, while I was browsing fashion magazines at Chapters (and spent entirely too much money to bring them home), I realized that the aesthetics of sewing blogs doesn't mimic fashion magazines. Not really.
~
Nor does it mimic self-portrait photography.
~
It mimics catalogues.
Which is depressing as hell (to me, anyway). What does it say about us and our relationship to our creations that our immediate impulse is to present them as products for sale? Is it just that that's the easiest kind of picture to take? Is it our default relationship with the clothes we wear and enjoy–posed on a friendly, unintimidating, quietly pretty model? What do you think about the implication–that we are essentially producing free advertising for fabric and patterns?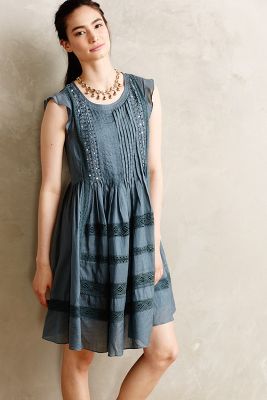 A very quick, lazy-Saturday-morning perusal of fashion photographs and self-portraits vs. catalogue images makes me wonder if the main difference isn't that in fashion photography and self-portrait photography, it doesn't matter if the model looks pretty or not. She (or he) might actually look tired, sick, angry, ridiculous, whatever, so long as the overall image is pleasing and interesting, and in fashion photography, it demonstrates something unusual or noteworthy about the clothing–construction, the way it moves, reflects light, what have you.
I'm not going to include photos from sewing blogs–I don't want to criticize anyone, and I think this is the kind of thing that would be hard not to take personally. But it's easy enough to find them on Google and then you can make up your own mind, or tell me I'm full of it.
I'm still going to be focusing on interesting over pretty, but I'll be thinking about it differently. Anything goes, so long as I don't look like a page from a Sears catalogue.