(I'll be posting a project shortly with an embroidered collar, and rather than clutter that post with a lot of background information on embroidered collars, here is an info-dump to be read in conjunction.)
A nicely-embroidered collar can be a fun and fairly easy way to work some embroidery into a clothing project, taking a basic neutral garment and turning it into something a little special.
A badly-embroidered collar can be a fun and fairly easy way to turn a basic neutral garment into something that looks so unbearably amateur in six months you're not sure you can wear it.
Collars have a big advantage for beginning embroiderers: They're small, so it doesn't have to take long to stitch up even if you're new.
Collars also have a substantial disadvantage for beginning embroiderers: They're highly visible and right near your face, so you will be carrying any mistakes around in a prominent location.
What's a newbie to do?
You can make a regular collar and be extremely careful. Or you can make a detachable collar.
Of course, a detachable collar presumes you have a collarless shirt, dress or sweater (or several) to attach it to. I'll assume you can manage that part, being enterprising sewers who know how to make collarless garments on which a collar would not later look completely foreign. I'll also assume that you're basically familiar with collar construction, and then gently nudge you towards David Coffin's instructions on making plain detachable collars. And then we'll get into the business of embroidering them (which of course also works on regular collars).
---
Here is an incredibly fancy detachable collar:
It's hard to picture it being worn, ever, with anything but a cocktail dress. I can't zoom in enough to be sure, but my guess is a stiff black silk, stabilized, backed with a lighter black fabric on the reverse. The silk would have been embellished before attaching to the reverse, and given the bulk of the embellishments that may have had to be done by hand. It would be heavy, for one thing, and stiff, for another, but it is beautifully done. It looks like clear crystals outlined in goldwork.
Here is a much less fancy embroidered collar:
This one's not detachable, but you can see your range of options pretty clearly. Assuming you can transfer the script neatly to the collar piece this would likely take about an hour. It's just a backstitch in plain black cotton floss.
HOW TO
Mark the area to be embroidered
The easiest way to do this is if you haven't yet cut out the collar piece. Trace the cutting line and the seam line onto the right side of the fabric where you can clearly see them. Interface the whole thing as you normally would. If the interfacing is non-woven or a stiffish woven, you're probably fine; if you're using a loosely woven interfacing on the collar, stabilize the area to be embroidered separately.
If you have already cut out and interfaced the collar piece, trace the seam lines on to the right side. You can baste the whole thing to a stabilizer and hoop that, and just cut the excess stabilizer away when you're done embroidering.
If you really, really don't want to have to do this and really, really have a problem with hoops, you have a few options: either embroider using a pattern or style that minimizes any travelling threads on the reverse (this is what will cause pulling and warping) or resign yourself to being very patient as you go. Stop periodically and give the collar piece a good stiff tug to ensure that the embroidering threads are loose enough not to pull or warp the collar. Still stabilize, but just the area to be embroidered.
2. Pick your pattern or motif.
Colour contrast, size of pattern, heaviness of stitches, heaviness of threads, and any light-reflecting embellishments will have the biggest impact on how much attention the collar draws. If you pick something heavy, either because the stitching is very dense or the materials have weight (beads etc.), this may affect your choice of stabilizer, so be prepared to use something stronger if you choose an embellishment style that is very heavy or dense.
3. Ensure it fits nicely within the collar.
You won't just be sewing the collar piece to the under-collar; you'll also be topstitching or edgestitching. It's best if you can leave at least 3/8″ of empty space between your motif and the seamline. If not, you'll be topstitching on top of the embroidery. That's not necessarily a problem, but it does affect the look of the collar and it's best to choose your preference in advance of stitching.
4. An iron-on transfer or tracing/freezer paper is your best bet.
If you have an iron-on motif already, figure out how you want to position it on your collar, then trace the collar cutting lines or seam lines around it before you cut the motif out.
If you are tracing your own motif, same: trace the cutting lines or seam lines as well. This will let you get a perfect mirror image when reversing the pattern on the other side of the collar.
If you're doing a cross-stitch or other canvas embroidery style, you can use waste canvas instead and count your stitches. This is a bit more work as you'll have to baste the waste canvas to the collar piece and remove it afterwards. A higher number on the waste canvas equals smaller stitches; keep in mind this means more stitches, and more time stitching. A lower number means an easier, faster project, but maybe not quite as elegant or neat.
5. Hoop and stitch
Or use a scroll frame etc. Scroll frames have the advantage of holding the entire project flat and taut, and the disadvantage of extra steps if you want to use them for a small piece. In this case I basted the collar piece to a scrap piece of muslin and cut away the embroidery area in the back. But once the set up was done the stitching was a lot easier and there were no hoop marks on the finished piece.
6. When you're done, and you've pressed the collar piece nice and flat, and it's ready to be attached to the under-collar, I recommend using a regular zipper or piping foot to sew them together. Then you can stitch as close to the embroidered area as you need to.
7. Pressing:
Don't press your stitches. If you need to press the embroidered area, treat it like velvet and use a needleboard or a towel so you don't flatten your work.
~~~~~
IDEAS
Embroidered collars can be delicate.
(satin stitches, mostly)
They can be pretty.
(From here. satin stitches and french knots–and by now you are probably seeing that this was done a) on a purchased shirt, after collar construction, b) by a beginner (look how much neater the left hand side is than the right) and c) without stabilizing or a hoop, causing those bits of pulling and warping.)
They can be shaped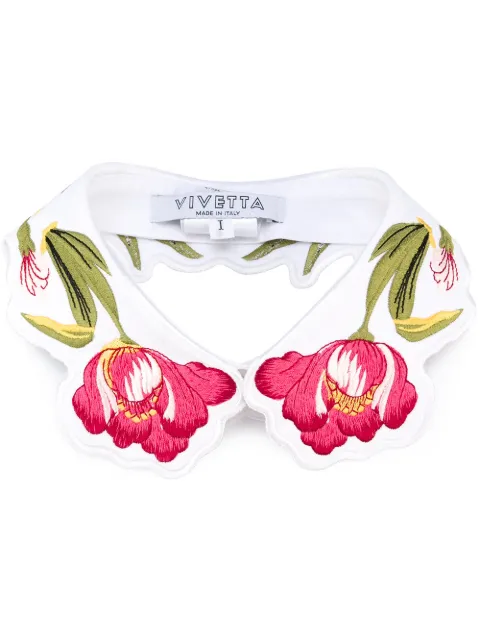 (machine embroidered; shaping of the collar also done by machine satin stitch. You can shape a collar with the same set of techniques you'd use for a scalloped hem, but I won't get into that here)
They can be a bit cheeky and odd
(all satin stitch–check out how neat the borders are and how flat and shiny her floss is) (also: deliberately assymetric is a nice choice if you're not sure how accurate your mirroring is going to be)
(satin stitches, back stitches, french knots, and some straight stitches it looks like)
(satin stitches, back stitches, french knots, maybe some buttonhole stitches; it's cute and graphically it's a lot of fun, but as embroidery it is not stellar. Still, it's totally wearable.)
They can be ornate and dimensional
(I love this one. The work is gorgeous, the colours are fantastic, the collar is nicely put together–wow. She's got fern stitches, fly stitches, a ton of woven picots, and pistil stitches. The fabric is a bit wobbly, which I think is a result of embroidering at least part of it after the collar was assembled, and the weight of the thread on a fabric that looks fairly light. From Senorita Lylo.)
(Another one by the same person, this time on a printed fabric. Just to give you a sense of how you can work with embroidery on a printed fabric.)
They can be incredibly fancy, like the D&G one.
A warning on the fancy stuff: The plus of using colourful and casual threads like cotton floss or crewel wool, as a beginner, is that mistakes (so long as they aren't too numerous) look intentionally-wonky and charming rather than slipshod. The same does not apply for thread painting, goldwork, stumpwork, beading, or other fancier embroidery techniques. Then mistakes, even in selection of materials, just look sloppy and translate pretty directly to becky-home-ecky. The fancier the materials you're working with, the less room for error you have.