I saw this brilliant yellow scuba-weight stretch faux suede in FabricLand, and petted it a lot and left it there.
And then I saw this fantastic fun jacket in the August 2018 Burda issue.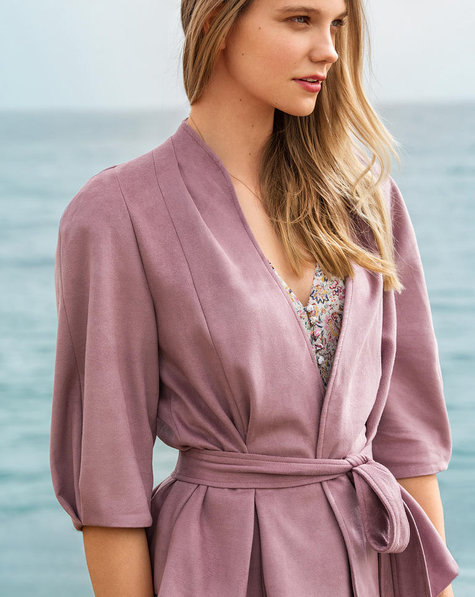 And then I determined that they were meant for each other, waited for the members sale, and bought enough of the faux suede to make it up.
I'm not sure the fabric agrees with me: the pattern is meant, I think, for something lighter and drapier. This faux suede has a good bit of body. But I kind of prefer it that way: it makes for some dramatically puffy sleeves. It also is not at all keen on pressing. Nothing would make it lie flat. Eventually, I got out the double-sided tape from actual suede projects and used it to make the seams lie flat and, on curved seams, did some careful catch-stitching. It made it a more complicated and time consuming project, but it's worth it to have nicely flat seams.
Standard 2″ FBA on each side of the bodice, rotated into the shoulder and waist darts.
There are a few issues with this pattern:
It's supposed to be a tall pattern? And yet here it is, not shortened or altered at all, and it's kind of … short. I know I'm a bit on the tall side, but my height is not in my upper torso. I didn't even have to shorten the sleeves, which is unheard of for me.
I am 99% sure that the measurements given for the tie belt pieces are incorrect. They are barely longer than the corresponding waist measurements and certainly wouldn't hang down, and the width is enormous (5″!) and it calls for 2. !! I basically cut one 5″ strip that is the fabric width and did the normal fold-and-sew, and I think this looks much closer to the pattern photo than what you'd get with the measurements they provide.
Otherwise it's a fun jacket, it's yellow, it's stretchy so it's super comfortable, and it's thick so it is warm enough for fall … though not necessarily for the fall we've had. Still, I was determined to wear it to work at least once.
All day people were giving me looks, Dear Readers. Their eyes would widen and they would quickly take in the outfit, and then look away. I happened to wear this get-up on our municipal election day, and I'm happy to say that the lady manning the polling machine was very complimentary on this colour combination. But she was the only one.
Sizing Note
In Burda tall sizes I should be a 80-88 based on body measurements. This pattern had 76 and 80 on the tissue, so I traced the 76 and widened it to the 80 at the hips, then did my usual FBA on the bodice front. As I described above, I would be cautious about any length alterations: it didn't seem particularly tall.